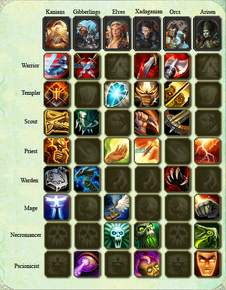 In Allods Online, players will be able to choose between 9 archetypes:
Every archetype has it's own role on the battlefield, from tanks to damage dealers or from healers to casters.
Archetypes use various spells and skill trees which improve over the course of time. These spells and abilities represent the core of any archetype and vary from one archetype to another.
Each archetype has race-specific classes. Not every race can be an archtype, and the differences in classes under the same archtype are racial abilities specific to the class
Archetypes, Races and Classes
Each Class has a unique 'specific ability' that is unique to that Race and Archetype.
For example:
An Arisen Mage (Sorcerer) has specific ability: Astral Blast - Inflicts direct Astral damage.
An Elven Mage (Archmage) has specific ability: Archmage's Enlightenment - Increases Intelligence of the caster.
An Arisen Healer (Heretic) has specific ability: Wisdom of Arisen - Increases Wisdom of the caster.
Archetype Proficiencies
| | | | | |
| --- | --- | --- | --- | --- |
| Archetype | Armor | Weapons | Off-Hand | Ranged |
| Summoner | Cloth | Staves, One-Handed Daggers, Two-Handed Spears | Items | Wands |
| Mage | Cloth | Staves, One-Handed Daggers | Items | Wands |
| Psionicist | Cloth (1), Leather (20) | One-Handed Daggers, Paired Fist Weapons | Items | Wands |
| Warden | Cloth (1), Leather (10) | Staves, One-Handed and Two-Handed Maces, One-Handed and Two-Handed Spears, Paired Fist Weapons | Items | Wands |
| Healer | Cloth (1), Leather (10), Plate (30) | Staves, One-Handed and Two-Handed Maces | Items, Shields | Wands |
| Scout | Leather | One-Handed and Paired Daggers, One-Handed and Paired Swords, One-Handed and Paired Maces, One-Handed and Paired Axes, Sword and Dagger, One-Handed Spears, Paired Fist Weapons | | Bows, Crossbows |
| Warrior | Leather (1), Plate (20) | One-Handed, Two-Handed, and Paired Swords, One-Handed, Two-Handed, and Paired Maces, One-Handed, Two-Handed, and Paired Axes, One-Handed and Two-Handed Spears, Paired Fist Weapons | Shields | Bows, Crossbows |
| Paladin | Leather (1), Plate (20) | One-Handed and Two-Handed Swords, One-Handed and Two-Handed Maces, One-Handed and Two-Handed Axes, Sword and Dagger | Shields | Wands |
| Bard | Leather | One-Handed Swords, One-Handed Maces, One-Handed Axes, One-Handed Spears | Items | Wands |