We're Getting Mutants in the MCU - The Loop
Play Sound
Contested zone for players level 31 to 34.
History and Culture:
Nothing is as strong as the the vision of getting rich quick and easy. Coba Plateau confirms this with many groups of Prospectors seeking the artifacts from anomalies all across this mysterious plateau and yearning for the huge piles of money they could mean. In the centre of this land stands Prospectors' Inn owned by Gorislav Gipitski welcoming the travellers and offering them beverage and services as well as the valuable pieces of information.
Only the most brave of prospectors are able to cross the Cordon guarded by goblins and discover secrets that lies beyond. One of them is the bizzare ruin of the pyramid in the western part of the plateau which uncovers the connection between this allod and Tep's wicked experiments.
'Holy' Artifacts are highly desirable by both League and the Empire who both built their bases here. And they are not alone. Demon Hunters want to investigate the anomalies themselves and land rich with Zem history is attractive for Historians.
Marauders' Isle, small allod not far from Northern Border, is the place where sports fans can find their paradise. Big Goblinball stadium that can host friendly matches or big tournaments is the centre of this isle.
Geography:
This zone is departed into two halfs by long wooden palisade guarded by Goblins. Characters can cross this barrier only by the guarded entrances, by catapult in the Historians' Camp in Meridian Outback (watch out when using the catapult - try to land in water else it may kill you) or in the most northern end of the palisade.
Adjacent Regions:

League Portal

Imperial Portal
Adamantine Chest

Neutral Portal

To Marauders' Isle
To Dragon Ring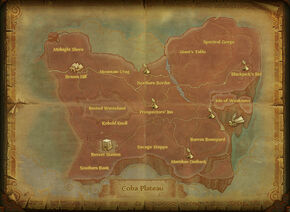 Points of Interest
Zoom

League Portal

Imperial Portal
Adamantine Chest

Neutral Portal

To Marauders' Isle
To Dragon Ring
Full size