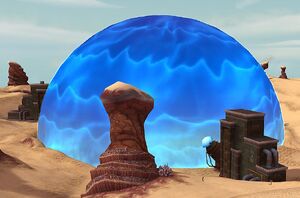 Imperial zone for players level 17 to 19.
History and Culture:
As the name of the zone indicates, this land was covered with sea in the past. Now it is dead and replaced by hot sand. Only reminders of the old times are the wracks of ships and huge bones of creatures that called the sea its home.
Desert like enviroment has many interesting points. Seventh Seabed Resort is recreational zone of peace for Imperial citizens. At least thats the official version. The oasis in the centre disrupts the plains of sand but it is not safe because the lizardmen inhabit the piece of land under the trees. 'Freeborn', the group of humanoids who wants to be free and rule themselves, built a village called Pridonsk. Mafia under the control of Viktor Korleone mine the addictive salt and it is for the good of Empire to disrupt their work and crush their base in Laguna Boil.
Geography:
Note: Player has to have the quest from Elizaveta Rysina (giving Vacationer Medallion) to enter Seventh Seabed Resort location.
Adjacent Regions:

Portal

Portal

Portal

Steel Chest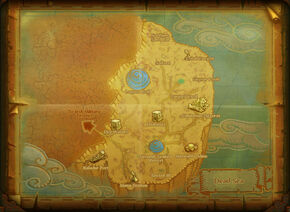 Points of Interest
Zoom

Portal

Portal

Portal

Steel Chest
Full size
Important NPCs
Quest Givers:
Juri Boklov

Sarbaz Hsakiu

Konk the Rowdy

Mikhail Korleone

Jukat Nomadic

Karina Merinova

Arina Struzhkina

Jackboot the Bloodthirsty

Feodora Nosova

Yaver Menhet

Vladimir Udalov
Reputation:
Ocha the Enduring

Oledor the Cunning

Boros the Brazen

Grum the Thrifty

- Quartermaster

Purk the Hasty

- Quartermaster
Services:
Lena Starkova

- Portal Keeper

Sarbaz Istnofret

- Portal Keeper