The sands out there are almost as dangerous as the beasts, as I'm sure you noticed! If it wasn't for this dome, the dunes would cover this area in a matter of weeks. Most of the other settlements have to shovel the stuff out on a daily basis.
That means that there's a whole bunch of treasure out there that no one's discovered! Some poor traveler drops a cache of stuff and the sands swallow it up. A few years later, the winds blow a certain way and there is it again, basking in the light of day!
In fact, I thought I saw a large chest myself while I was taking a stroll the other day. I was in a hurry, and I figured it might have been a trick of the light, but if you've got time on your hands maybe you should go look for it. I think it was off to the south.
Objectives
Find the hidden treasure to the south and report your success to Alexey Sinitsyn.
Completion
Wow, look at that! So there was a chest there after all! Well, I'm sure that reward was well-deserved.
Rewards
Notes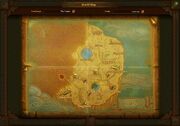 Community content is available under
CC-BY-SA
unless otherwise noted.