| | |
| --- | --- |
| | External Content: Much or all of this article's or section's content was imported from another location on the internet or taken from a written source. It should be re-written as a priority since it may be copyrighted material not specifically covered under the general disclaimer. If you rewrite this article, please remove this notice. |
"Motherland, Chief and Victory"


The Xadaganians are a perfectly balanced military machine, always ready to fight for its main objective: Astral domination. A fighting machine which is constantly upgrading itself, with the parts that make up its armed forces perfectly matched. Only a miracle can save an enemy facing the full force of a Xadaganian attack from inevitable destruction.
Background
The Xadaganians are followers of the Great Mage Nezeb, who led his followers away from Kania. They believe that following the death of Nezeb, Yasker will lead their kingdom into a new future thriving for happiness and into a time where all the citizens of the Empire will have equal rights.

Xadaganians are ready to sacrifice themselves for this common goal of happiness and equality.

When the Xadaganian kingdom was initially founded, it mainly comprised of nomad human tribes from the southern lands of Sarnaut. When the kingdom was emancipated, they absorbed some Kanian lands. However, the legacy of their Southern blood makes every Xadaganian very distinct, being short, slim, dark skinned and with short hair.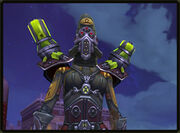 Every aspect of life for an average Xadaganian is impacted by the constant state of conflict with the kingdom of Kania. This has led to a strong military culture within the society, and has been fuelled by the industrialisation of the state. A result of this is that most citizens live in large cities and are brought up to be warriors. Xadaganians are extremely disciplined, which extends to nearly every aspect of daily civilian life.

An unending war and a belief that the state's common interest is more important than any personal benefits have not, however, turned them into rude or violent people. They staunchly believe that their way is the only way that can ensure peace and happiness for their whole kingdom. They also deeply despise the state system in Kania, ruled by its Council of Deputies.
Only a single person's strong leadership can bring unity to the nation. The best thing one can do is serve his nation.
Repeatable Quests
Quartermasters
Items sold by these Quartermasters require character Level 11 for Trusted gear, and Level 13-15 for Respected.
Igor Zorin

- Recruitment Centre, Igsh Military District

Matvei Nebogatov

- Yasker's Tower, Nezebgrad